Youth Fashion Summit
Pandora is proud to be the official partner of Youth Fashion Summit (YFS) 2018-19. YFS is a sustainability education programme and idea generation platform for students engaged in sustainability and fashion. The YFS programme is closely linked to Copenhagen Fashion Summit – the world's leading business event on sustainability in fashion.

Proud partner
Follow and join the conversation on social media via #PANDORAxYFS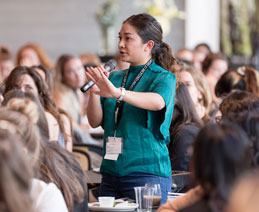 The two-year sustainability program is put together by UN Global Compact, in collaboration with the Global Fashion Agenda, Pandora and Copenhagen School of Design & Technology. The initiative sets out to challenge the 100 most talented students in the fashion industry to create a framework for the industry on how to reach two of the Sustainable Development Goals (SDGs), namely SDG 3 and 5.

Pandora wants to connect with the voices of the next generation to learn about their ideas, get challenged and hopefully get inspiration to continue to evolve the way we work with the SDGs, innovate and craft.