Responsible Supplier Programme
Acknowledging that the Code of Conduct does not in itself guarantee the implementation of responsible business practices we have developed a comprehensive Responsible Supplier Programme.
The programme instructs our sourcing and purchasing departments to adopt a four-step approach working with our suppliers to ensure compliance with Pandora's Code of Conduct.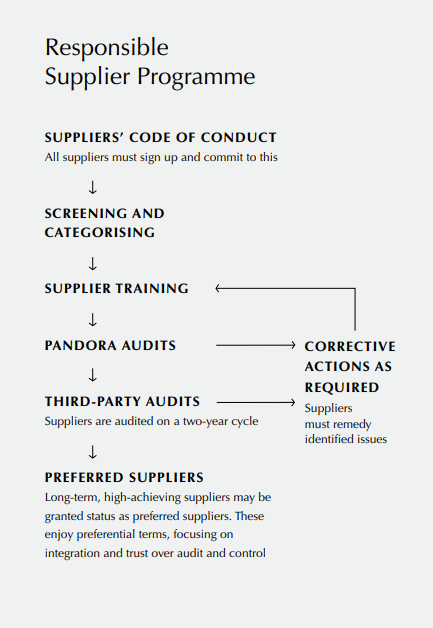 Step 1: Screening suppliers
As a first step our purchasers cooperate with our dedicated CSR teams to screen and categorise all suppliers. Each supplier is investigated through a set of screening criteria such as business importance, product related risks, country of production (using the WGI indicators), documented responsible performance/commitments, leverage, as well as the responsible purchaser's personal assessment. One off suppliers as well as suppliers delivering goods or services below USD 50,000/year is generally not eligible for audits. Nonetheless, failing to convince the responsible purchaser, these supplier categories will become eligible for further investigation.

The outcome of this initial CSR screening is integrated into our Supplier Segmentation Model, which categorise suppliers according to their potential business impact as well as other supply risks. Based on above, our suppliers are further categorised into one of four categories each eligible to specific actions.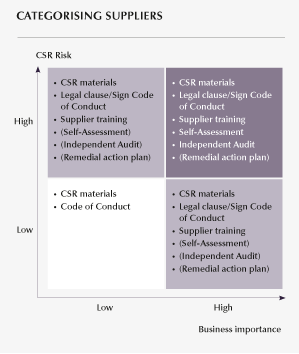 Step 2: Supplier trainings
Depending on the outcome of the initial screening, suppliers are either approved for business or invited to move on to step two of the programme. Here we will engage in an in-depth dialogue tailored to the specific characteristics of the supplier vis-a-vis our requirements. Most suppliers will be invited to join a one-day CSR supplier training course. The key objective of the CSR training is to enhance suppliers' awareness of CSR risks, improve their understanding of PANDORA's CSR approach and expectations and ensure that they are aware of relevant rules and regulations.
During the training, we encourage and seek to inspire our suppliers to make use of practical tools and methods to raise their ethical standards and prevent or mitigate identified non-compliances with our Code of Conduct. A vital part of this exercise is to share with our suppliers how we work to ensure responsible business practices at our own crafting facilities in Thailand, operating under similar business conditions as the majority of our suppliers. This approach has proved to be a fruitful means of facilitating difficult discussions on how seemingly unsolvable issues can be turned into business advantages.
Trainings are mainly delivered by our internal CSR teams based in Thailand, Hong Kong and Denmark. Our CSR specialists have comprehensive experience from more than thousands supplier audits on CSR performance throughout Asia and Europe – the two regions that account for almost 100 per cent of our direct supply base. Trainings will also include sessions on national labour and environmental laws.
Crafting with integrity
All suppliers of our jewellery crafting and store materials are subject to our Reponsible Supplier Programme and required to sign and comply with our Suppliers' Code of Conduct. Read more in our
Sustainability Reports
.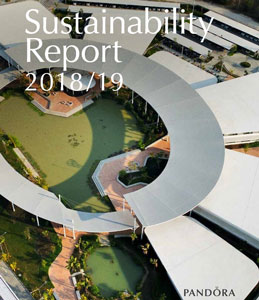 Step 3: Supplier Audits
The third step is an actual CSR audit conducted by an independent audit company. The audit process is often initiated by asking the supplier to perform a preliminary CSR self-assessment using a template provided by Pandora. We do this with a dual purpose. Firstly, we wish to allow our suppliers to identify and mitigate any non-compliance that they might not have paid attention to in the past. Secondly, we want to obtain sufficient knowledge about the supplier's CSR performance before ordering a comprehensive supplier audit. Following our commitment to constructive dialogue and long-term partnerships, audits are announced to suppliers 2 to 3 weeks in advance.

In 2018, >85% of our total sourcing value came from suppliers who have been audited by either our external auditing company or are certified members of the Responsible Jewellery Council (RJC). This means that they have been audited against the broadest and strictest standards within the jewellery supply chain. The majority of non-compliance cases identified during the independent supplier audits involved either health and safety standards or working conditions. Pandora's crafting facilities in Thailand have worked diligently to achieve high standards as well as expertise within both areas. Thus, we seek to transfer our knowledge and expertise to our suppliers, to help them raise safety levels, job satisfaction and commitment – and thereby increase attraction, retention, productivity and profitability.


Step 4: Corrective actions
The fourth and final step is to develop and implement corrective action plans ensuring that any non-compliance identified during daily operations, initial screenings, supplier trainings, self-assessments or through independent audits, are eliminated within a reasonable time frame.

The independent audit team prepares a draft corrective action plan based on their expertise and knowledge of how fast companies and authorities can be expected to act on the given context. The plan is presented to the supplier at the end of the audit, and the supplier can either accept it or suggest an alternative plan, which ultimately must be accepted by our purchaser and/or Corporate Sustainability. Failure to follow the plan and ultimately to comply with the Code of Conduct will escalate Pandora's efforts to ensure compliance, up to the point where Pandora's Ethics Steering Committee decides to terminate the business relation.