Risk management
Pandora carefully monitors and assesses potential risks to the company on an ongoing basis. As a global brand with a fully integrated value chain, some of the key risks facing Pandora are brand relevance and supply disruption.
Our approach to risk management
Pandora's approach to risk management is to proactively manage risk to ensure continued growth of our business and to protect our people, assets and reputation. All business activities have inherent risks, and we see a well-functioning risk management process as key to maintaining and building Pandora's position as the world's largest jewellery brand.
This means that we:
Utilise an effective and integrated risk management system while maintaining business flexibility;
Identify and assess material risks associated with our business;
Monitor, manage and mitigate risks and leverage related opportunities where possible.
Our risk reporting structure
At Pandora, risk management is an enterprise-wide effort, with management teams across our value chain responsible for the continuous identification, assessment, mitigation, and reporting of current and emerging risks. All areas of our business are required to report their most significant risks to the Global Insurance & Risk Office, along with assessments of those risks and an overview of planned and implemented mitigations, on a quarterly basis. All risk assessments take into account the likelihood of an event and its potential financial impact on the business. Risks are assessed both on gross and net levels.
Pandora's Chief Financial Officer heads up the company's Risk Management Board, which consists of senior management representatives from across our value chain and which is tasked with challenging and ensuring the comprehensiveness of the corporate top ten risk profile. The Risk Management Board is assisted in its work by the Global Insurance & Risk Office, which serves as its secretariat. The role of the Global Insurance & Risk Office is to review risks, support and challenge management on risk information, and consolidate the reported risks into a quarterly corporate risk profile containing the company's key risks. The final risk profile is reviewed by the Executive Leadership Team, the Audit Committee, and the Board of Directors.
The Board of Directors is ultimately responsible for assessing the nature and extent of risks associated with Pandora's strategic direction and for the implementation of effective risk identification, assessment, and mitigation.
Our risk reporting structure ensures that all levels of the organisation are involved in the process, that risk input is repeatedly challenged, and that the results of our analyses are disseminated at the highest levels of the organisation.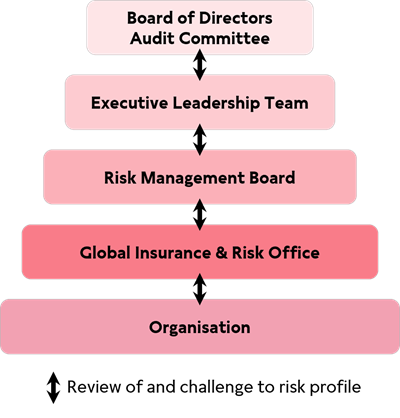 Our key risks
The Board of Directors reviews the key risks that could threaten our business model or the future performance, solvency, or liquidity of Pandora. These key risks make up Pandora's consolidated risk profile and do not represent all the risks associated with our business. Additional risks not presently identified or those currently deemed to be less material may also have an adverse effect on our business.
Pandora's key risks and our responses to them are described in our latest Annual Report.
Emerging risks
Pandora's enterprise risk management system also identifies and monitors emerging risks, which are reported to the Risk Management Board along with the corporate top ten risk profile. The most prominent emerging risks are:
A changing regulatory environment driven by the climate crisis and law makers' response to this. Regulatory complexity grows from this as responses come from both supranational bodies, e.g. the EU, and individual countries.
Increased risk of business interruption due to climate change intensification.