Sustainability governance
Our sustainability governance structure ensures that our sustainability programme meets Pandora's social and environmental ambitions and supports the business.
Sustainability Board
Pandora's Sustainability Board, which reports to the Executive Leadership Team, oversees the corporate sustainability strategy, which is implemented by the Global Sustainability team.
Structure
The nine-member Sustainability Board is chaired by our CFO and includes four other members of Pandora's Executive Leadership Team. The following corporate functions are currently represented on the Sustainability Board: Supply Chain, Product, Retail, Human Resources, Marketing, and Corporate Communications and Sustainability. Sustainability Board members are responsible for integrating sustainability into the operations of their respective functions with support provided by the Global Sustainability team..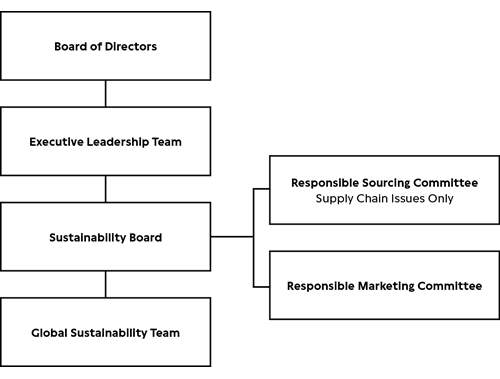 Responsible Sourcing Committee
The Responsible Sourcing Committee (RSC) advises on sustainability-related supply chain governance. This seven-member committee oversees the implementation of the Responsible Sourcing Policy and Programme, reviews and recommends approaches for the use of new materials, and advises on specific supplier relationships on a case-by-case basis. The RSC is co-chaired by the VP Supply Chain and Director Corporate Sustainability, meets twice a year and reports to the Sustainability Board.

Global Sustainability team
Pandora's Global Sustainability team, led by the VP Corporate Communications and Sustainability, manages the company's global environmental, social and governance portfolio and is based at Pandora's Global Office in Copenhagen. The team reports to the Chief Human Resources Officer, who is a member of the Executive Leadership Team.