Outlook
Financial Guidance for 2021 - stabilising the topline
In 2021, Pandora expects to reach an important milestone: returning to top-line growth after three years of decline. In the absence of COVID-19 impact, we would guide for slightly positive organic growth in 2021 versus 2019. However, we expect 2021 will be impacted by COVID-19 and performance therefore remains highly uncertain.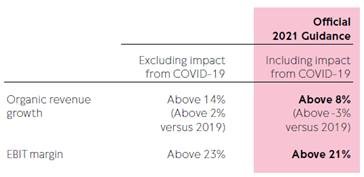 Excluding the assumed COVID-19 impact in 2021, the guidance represents more than 2% organic growth compared to 2019 and an EBIT margin above 23%.
Revenue guidance
The organic growth guidance can be illustrated as follows: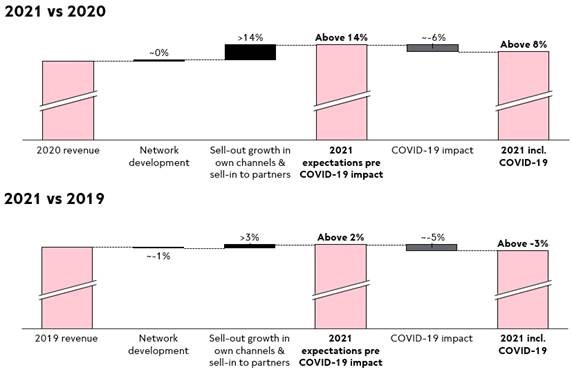 The guidance is based on the assumption that approximately 25% of the stores will be temporarily closed during the first half of 2021 and that organic growth will be negatively impacted by around -16% in the first half (around -6% full year impact). For the second half of 2021, it is assumed that there are no significant store closures and that COVID-19 related store restrictions will have limited impact.

The guidance is also based on the assumption that the positive impact seen in late 2020 of reallocation of consumer spending away from travelling and services towards gifting and discretionary goods was not larger than the negative impact from temporary store closures.

Pandora expects that China will remain a drag on total revenue growth in 2021 and that revenue in China for the year will be well below 2019. China remains top priority and a significant growth opportunity for Pandora.

Forward integration is expected to add around 1% revenue in 2021. Furthermore, we expect headwind from foreign exchange rates of approximately -1% taking total revenue growth in DKK to above 8% in 2021.


Profitability guidance
The 2021 EBIT margin is expected to be "above 21%" including negative COVID-19 impact of around 2pp. The building blocks in the guidance are illustrated in the bridge below. It shows there is significant positive operating leverage in the business model. In the EBIT margin guidance for 2021, however, this is not directly visible due to continued COVID-19 headwind and higher commodity prices.

The quarterly phasing of the EBIT-margin obviously depends on the COVID-19 development. As in prior years and in line with normal seasonality, Q4 is expected to be by far the most profitable quarter of the year.

Full year 2021 EBIT margin guidance bridge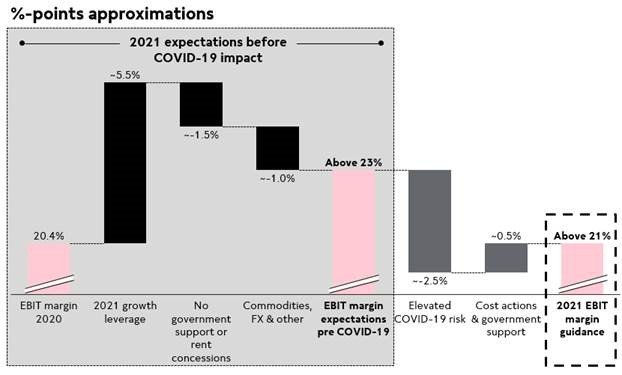 2021 guidance - other parameters
CAPEX for the year is expected to be in the range of DKK 1.0-1.2 billion. This includes investments in Pandora's physical stores, the crafting facilities in Thailand as well as digitalisation and technology. No major changes to the overall concept store network are expected in 2021. The effective tax rate is expected to be 22-23%, in line with 2020.
Mid- and long-term financial aspirations
Pandora's aspiration for the mid-term horizon is to deliver sustainable positive organic growth and industry-leading profitability. Pandora will disclose new long-term targets as part of the upcoming strategy to be released later this year.