Outlook
Financial Guidance for 2021 upgraded
Based on the strong start to 2021 and an updated full-year forecast, the financial guidance for 2021 is upgraded to "organic growth above 12%" (previously "above 8%") and EBIT margin "above 22%" (previously "above 21%").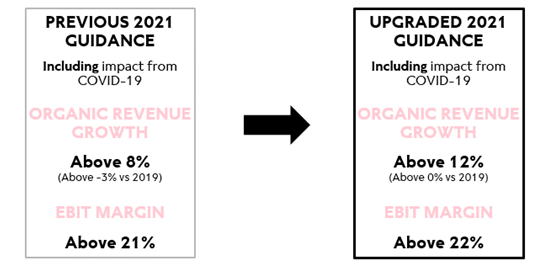 The launch of the new strategy, Phoenix, and the launch of Pandora Brilliance (separate press release) is incorporated into the updated 2021 financial guidance, but would in itself not have had any material impact on the original 2021 financial guidance.
REVENUE GUIDANCE
The revenue guidance is upgraded to organic growth "above 12%" (previously "above 8%"), driven by the US stimulus packages as well as stronger underlying performance. An organic growth of "above 12%" vs 2020 correspond to an organic growth expectation of "above 0%" vs 2019.
COVID-19 continues to create an elevated level of uncertainty on the guidance. The expected full-year impact on organic growth from COVID-19 is unchanged compared to the original guidance at -6pp, but with a different phasing. In the original guidance, COVID-19 was assumed to impact mainly H1 2021. The updated guidance is based on the assumption that 20-25% of the stores will be temporarily closed during the first half of 2021 and 5-10% in the second half. The -6pp impact only includes the COVID-19 impact on closed stores and an assumed level of pick-up in the online business. It does not include the temporary impact from US support packages.
The combination of COVID-19 impact in both 2021 and 2020 may create significant quarterly swings in revenue growth vs 2020 in certain markets.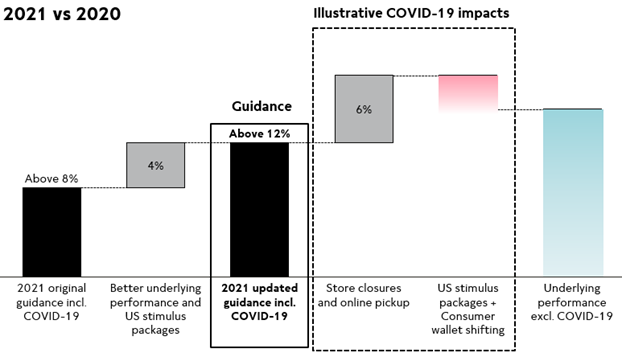 PROFITABILITY GUIDANCE
The EBIT margin guidance is upgraded to "above 22%" (previously "above 21%"), driven by operating leverage from expected higher growth. This is partly offset by marketing investments in China, as Pandora take the first significant steps in the China transformation by investing in a repositioning of the brand.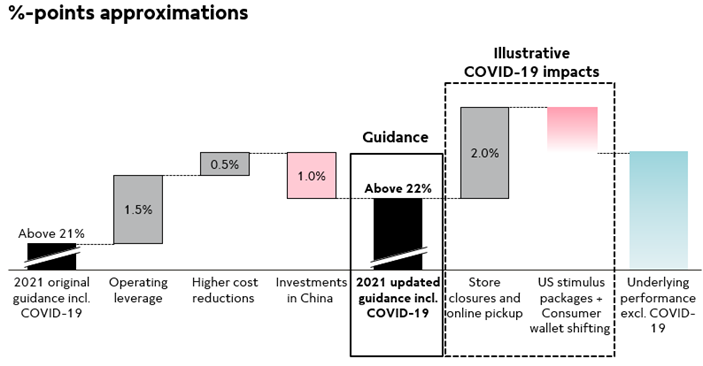 2021 GUIDANCE - OTHER PARAMETERS
Other parameters are unchanged from the original guidance. CAPEX for the year is expected to be in the range of DKK 1.0-1.2 billion. This includes investments in Pandora's physical stores, the crafting facilities in Thailand as well as digitalisation and technology. No major changes to the overall concept store network are expected in 2021. The effective tax rate is expected to be 22-23%, in line with 2020.
Mid- and long-term financial aspirations
Pandora's aspiration for the mid-term horizon is to deliver sustainable positive organic growth and industry-leading profitability.